Our favorite portable listening devices
Wednesday, December 18th, 2013 at 9:14 am
These days many of us carry entire music libraries in our portable devices, so we have rounded up three of our favorite ways to share our wonderful collections with family and friends.
Introducing the Bose SoundTouch Portable, coming in at 5.8 x 9.8 x 2.5 inches and just over
3 pounds. The Bose SoundTouch portable has a docking station, as well as AirPlay and app control via your wireless network. At such a small size it's not only portable within your home, but is small enough to pack along on a trip or vacation, especially with its rechargeable lithium-ion battery. The SoundTouch boasts patented dual opposing passive radiators and four low-profile drivers for clearer, fuller sound than you could imagine from a system this small. This unit is only $399.95, and is on display in our showroom!
Sony b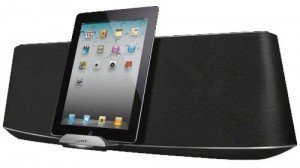 rings our next contender with the Premium Dock for iPad/iPhone/iPod, a 15.88 x 7 x 6.38 inch portable sound dock that comes in at just under 7 lbs. The premium dock features Magnetic Fluid Speakers and a powerful base that doesn't sound "boomy." Its sleek, modern design pairs well with its new age capabilities such as AirPlay and a sleek control app. Sony's Premium Dock is only $399.99, a great price for quality sound.
Our third and most glorious, albeit larger, contender is packed into an ingenious design that provides 180 degrees of sound with audiophile approved quality. It is the Marantz Consolette Speaker Dock. The Consolette's Wi-Fi and Ethernet connectivity allow you to stream music wirelessly from your iTunes library or mobile device–Apple, Android, or Windows–using a wireless network. Also featured is an iPod dock and USB port, allowing you to play your music while charging your device! The Consolette's high fidelity sound can be controlled via the Consolette app or the included remote control. This device is 20.3 x 10.3 x 8.4 inches and just under 16 pounds, small enough to move throughout your home, but large enough to produce powerful sound. MSRP is $1,199, but pick this up at our showroom for just $599 while supplies last!
Tagged with: airplay • Audio • bose • high quality audio • ipod dock • listening • marantz • music • on the go • portable • sony • travel • wi-fi
Like this post? Subscribe to my RSS feed and get loads more!