Gearing up for summertime outdoor adventures? Don't forget the music!
Wednesday, May 2nd, 2012 at 5:47 pm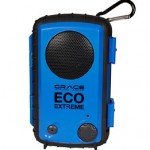 If you're playing at beach, hiking in the mountains, swimming in your pool, camping in the desert, working in your garage, or laboring at a construction site, you might not want your expensive electronics at risk of damage from water, sand, dirt, grease, or shock. We have your solution with the Eco Extreme Waterproof Speaker Case.
This rugged all terrain speaker case allows you to take your music anywhere. It works with any mp3 player and cell phone including the iPhone, iPod Touch, Motorola Droid, and Blackberry. It provides extreme durability, rugged housing and dynamic sound performance.
Come get one today!
(http://www.gracedigitalaudio.com/eco-extreme-p-113.html)

Filed under: Uncategorized
Like this post? Subscribe to my RSS feed and get loads more!