custom systems
With over thirty years of combined expertise, the team at Mountain Multi-Vision & Sound has more experience in custom electronic systems than anyone in Summit County.  From one touch control of all your electronic systems to a complete home theater, and full home automation, we will create exactly what you are aspiring for.  If you can imagine it, we can make it happen.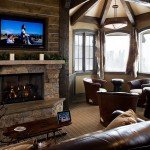 ---
Audio
High performance is a given.  Your preferences and our expertise will create a custom sound system for any mood you desire – from background music in a kitchen to a high performance audiophile system in your media room.  We will design your custom audio system with the priorities of sound, aesthetics and convenience.

Visit our showroom.  We will show you the difference a great quality speaker makes –just like a live concert – hearing every note, instrument and word.
Our components blend with your home design.  Whether you prefer to hide your speakers in the wall or ceiling, or display them free standing as a work of art, we will design the system with you, creating an aesthetically pleasing audio system for your entire home. All with one touch controls.
---
Video
LED, Flat Panel, 3D – televisions are more inventive than they have ever been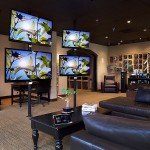 before.  At Mountain Multi-Vision & Sound, we know the visual experience should portray the fullness of what was originally captured, with clarity and ambience.   Integration into your space is essential with custom designed enclosures that blend with your room whether it be an unobtrusive system mounted on the wall in your living room or a retractable projection screen hidden in your ceiling.
---
Home theater
Mountain Multi-Vision & Sound has the expertise to create a custom theater with a combination of sophisticated electronics, unparalleled integration, and a remarkable system design complete with screen, projector, lighting, surround sound and seating.
---
Lighting
Lighting – where beauty, mood and energy efficiency come together for every activity and event in your home.  An automated lighting control system will provide increased security for your home as well as saving on money and energy by providing lighting only when and where needed.   Your new plan can be retrofitted to your existing system, or we can create a brand new plan to meet all of your needs.
Lutron Home Works switches are integrated and used for lighting and attractive fully automated shades for convenience and overall home protection, along with energy efficiency. As always, we are your hands-on comprehensive installation specialists. We start at the planning stage with our electrical engineer and see the project through to completion.
---
Home automation
Our goal is one efficient and easy automation system for everything in your home that is tied into a touch panel control, a unit designed for simplicity and ease of use.
This simplification of your life alleviates the constant search for remotes for specific functions on your AV equipment or even wall controls for lighting, temperature and security. From programming your television and audio equipment to adjusting your window treatments during certain times of the day, to illuminating hall lights as you walk by, and adjusting your heating and security systems when you are home and away – your touch panel will be programmed to your needs and can easily be monitored through your laptop or Smartphone.
The remote access to your system through any type of wireless allows you to watch over your home in every way, through both surveillance cameras and system information. If something does not run according to plan – for example if a door is left open by mistake or the thermostat drops below a desired setting, a message can be sent directly to you.
Primary homeowners will feel more secure as they are able to check in on their home if something was forgotten or while on vacation. Secondary homeowners can easily look in on their property and adjust things as needed, or communicate concerns to the caretaker.
---
Furniture
The delight of your experience can be enhanced with our custom furniture. We offer a range of luxurious seating options. A visit to the spa has never been as convenient as a custom heated, massage chair in your own home. We also work with custom cabinetmakers and other furniture companies to make sure the media in your home adds to its design.