home
Mountain Multi-Vision and Sound is Summit, County, Colorado's leader in the design and installation of custom home theaters, home automation, television, home audio and video, and lighting systems.  Located in Breckenridge, Colorado, we also service Frisco, Silverthorne, Dillon, Keystone, Vail and surrounding areas.
With over thirty years of combined expertise and excellent personalized service, we will create the home integration system of your dreams.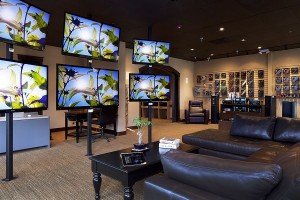 Breckenridge electronics store Mountain Multi-vision and Sound gives Summit County, Colorado residents and visitors a place to purchase the best in home electronic products 
Please come visit our home electronics store at 100 N. Main St. on the corner of Main Street and Lincoln Avenue, in the second floor level of Town Square Mall, Suite 205 in beautiful Breckenridge, Colorado, where you can enjoy amazing views of the Rocky Mountains and Breckenridge Ski Resort while you shop!
Your eyes will delight in the experience of our theatre room where you can watch a movie in 3D with superb surround sound. Lounge in our beautiful theatre chairs from Salamander designs while your ears feel the joy of listening to a Macintosh Laboratories sound system, one of the world's leading audio component manufacturers.  Feel the difference custom lighting can make as LUTRON lighting and automated shades create the perfect ambiance for the moment.
Those with lots of space and space-savers alike can shop the sound of our many full size and Bookshelf speakers by SONOS FABER.  Relax on the leather couch, be amazed by the incredibly thin SONY flat panels televisions we offer for sale, and imagine how great one would look installed in your home!  Whether your style is mountain or modern, design the perfect piece of furniture to house your audio video components with our interactive software.
Create your own private world of music with headphones, accessorize a small space with a desktop sound system, and don't forget the essentials like memory cards, batteries, cables, surge protectors and specialty stereo component cleaners.  Come in, and we promise to intrigue your senses with the sights and sounds of Mountain Multi-vision and Sound!
We specialize in:
Flat panel televisions, stereo systems, headphones, desktop stereos, DVD and Blu-ray Players, IPOD and IPHONE accessories, cables, memory cards, automated lights and shades, and full home automation systems as well as batteries, surge protectors, helmet cams, audio video furniture and more!
Follow us on Facebook & Twitter to stay updated, and sign up for our newsletter – we promise to be brief with our emails!